China TianYing T54 thermal imaging weapon sights of 640x512 400m sniper, fits on automatic rifle mainly, delivers superior accuracy and rugged performance under the most extreme shooting conditions.
It allows small caliber snipers to recognize man in excess of 400 meters, long-range optics coupled with an HD display provides crisp imagery, and portrait orientation compensates for bullet drop at extreme ranges.
The thermal sight features fully military details and the lightest weight, effective on solider weapons from 5.45mm automatic rifle to 7.62mm caliber automatic rifle.
T54 640x512 400m grade automatic rifle thermal imaging weapon sight Specifications:
Model
T54 (TY-N41)

Performance

Detect man

> 800m

Recognize man

> 400m.

Reticle type

Electronically programmable mil-dot rangefinder crosshair.

Windage & Elevation, 1 click,

20/ 20

mm/ 100m

Fits on weapon

.22 to 7.62mm caliber gun.

Mounting configuration

MIL-STD 1913, quick detach and return to zero repeatability.

Sensor

FPA Formats

≥ 640 x 512 pixels Uncooled VOx

Pixel Pitch

17 μm × 17 µm

Frame Rate

25Hz/30Hz.

Spectral response

8-14μm

Effective sensitivity

≤ 50mK F1

Display Resolution, pix.

≥ 1024 x 768 OLED

Optics

Field of View,°, horizontal

≥ 11.5° x 9.2°

Objective Lens

54mm f1.0 lens.

Eye Relief, mm

30mm

Diopter adjustment, dptr.

- 4…+ 4

Close-up distance, m

10m

Input / Output

Battery type

2 x 3V CR123A chargeable batteries

Operating time

> 4 hous with built-in batteries

Image Control

Command Control

Imaging Enhance, denoising, Polarity: White Hot / Black Hot,etc

Image Adjust

Contrast, Brightness, 2x zoom, Polarity and Shutter Notification.

Environmental Adaptability

Operating Temperature,°С

-40°C to +50°C , temperature shock 5°/min

Storage Temperature

-50ºC to +60ºC

Waterproofness

IP67

Environmental conditions

Meet military standard GJB150 demand.

Physical

Dimensions, mm

245mm (including eye guard) x 85mm x 85mm

Weight (with batteries and mount), g

≤ 730g

Note: *- Effective human target operational distance 794 meters is given at levels of 94.5% success probability and 2°C temperature difference between target and background.
**- Technical information is subject to change without notice. *** -Depending on the region of sale.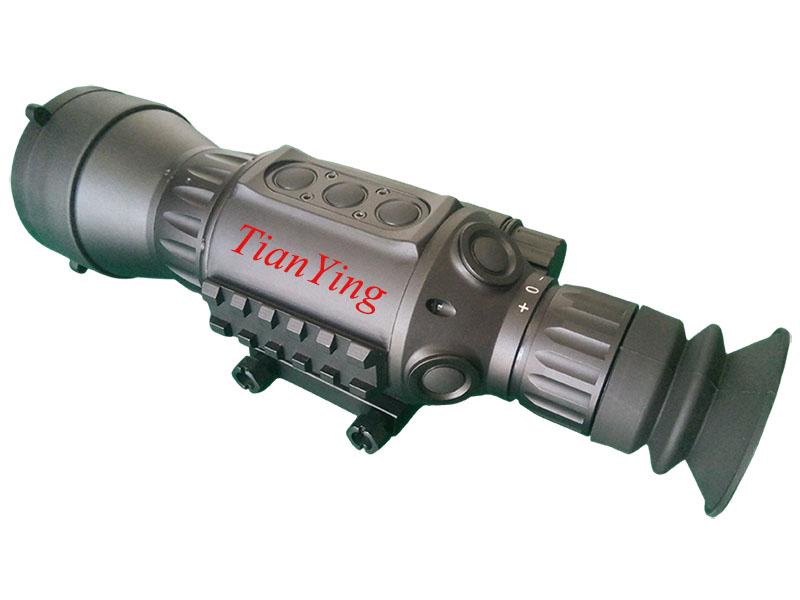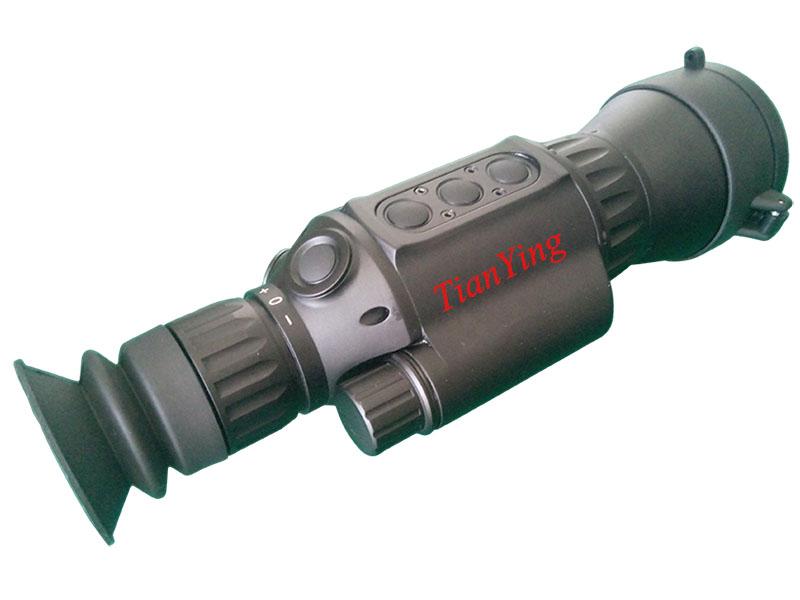 TianYing 640x512/640x480 sniper thermal weapon sight see person target, if use for same detector material, same NETD and same pixel pitch, then 640x512/640x480 image is more clear and more sharper.



TianYing 640x512/640x480 thermal imaging camera search target.



if use for same or similar detector resolution,Vanadium Oxide detector material image is more clear with Amorphous Silicon material.